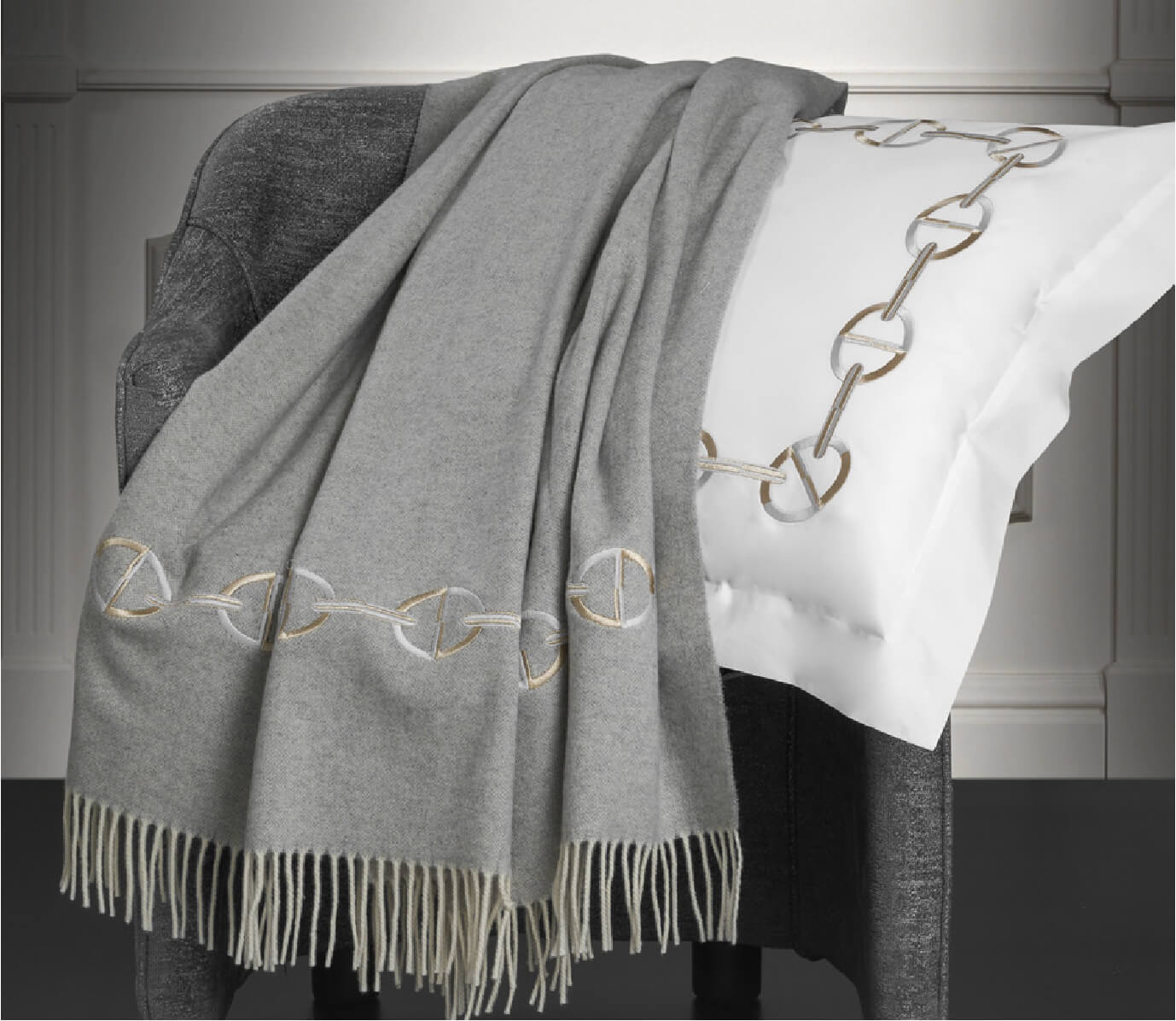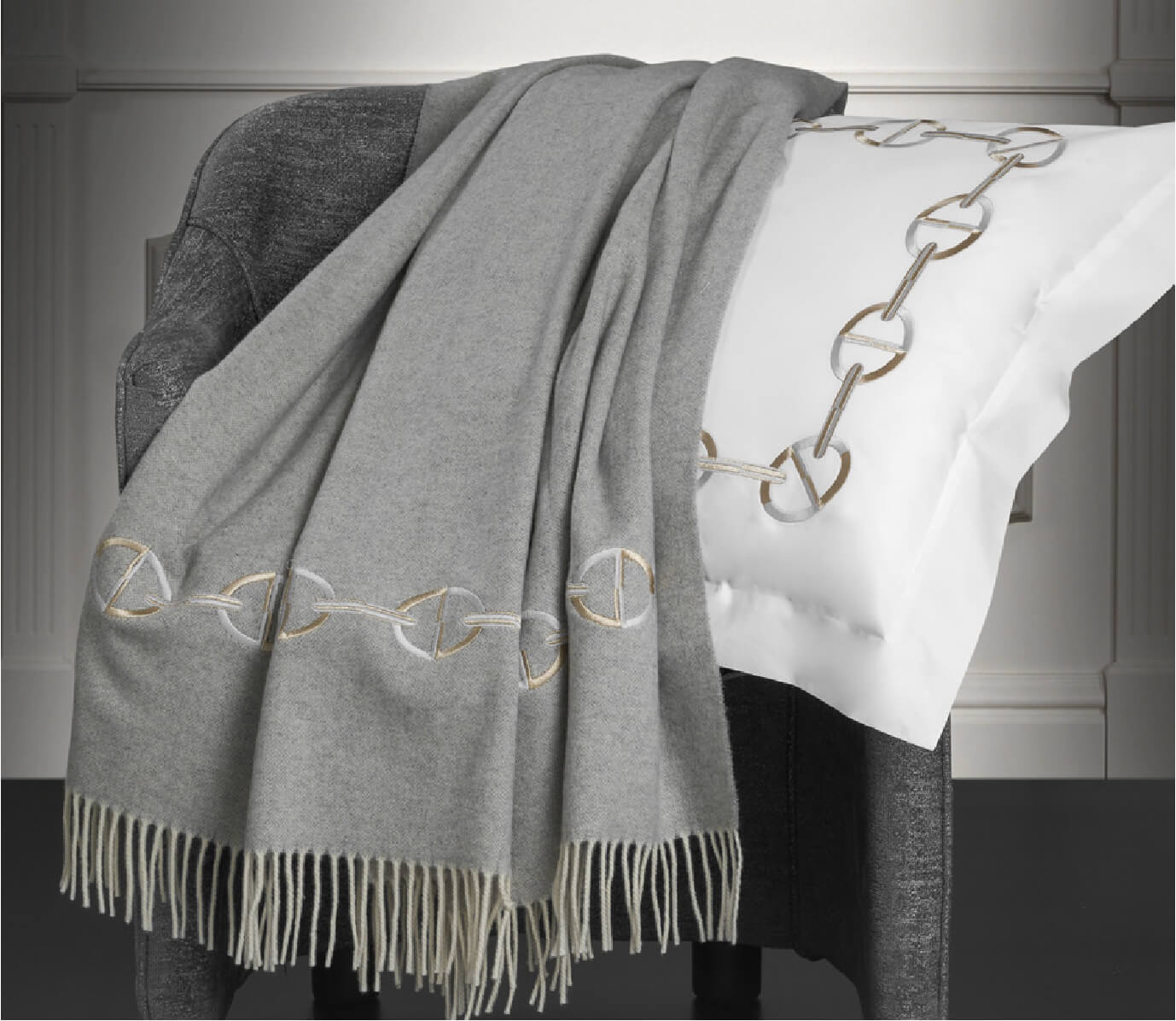 Chaine
A contemporary link pattern evocative of both nautical and equestrian worlds.

Jacquard The Jacquard fabric represents the apex of the art of textile. The pattern which characterizes its structure is directly woven in the fabric, rather than being drawn or printed. This particular processing enables to create precious designs, representing elegant harmonies made up of warp and weft. The first one identifies the base, or the set of threads which are parallelly placed in a longitudinal manner, whereas the second one, the weft, is the thread to be inserted several times into the threads which make up the warp. This allows to build the weave (or framework), which is the actual design.

Embroidery With the Chaine collection by Timothy Corrigan for Dea, the ancient art of embroidery takes on a particularly modern appeal through a distinctive design that frames and emphasizes the absolute beauty of the fabrics.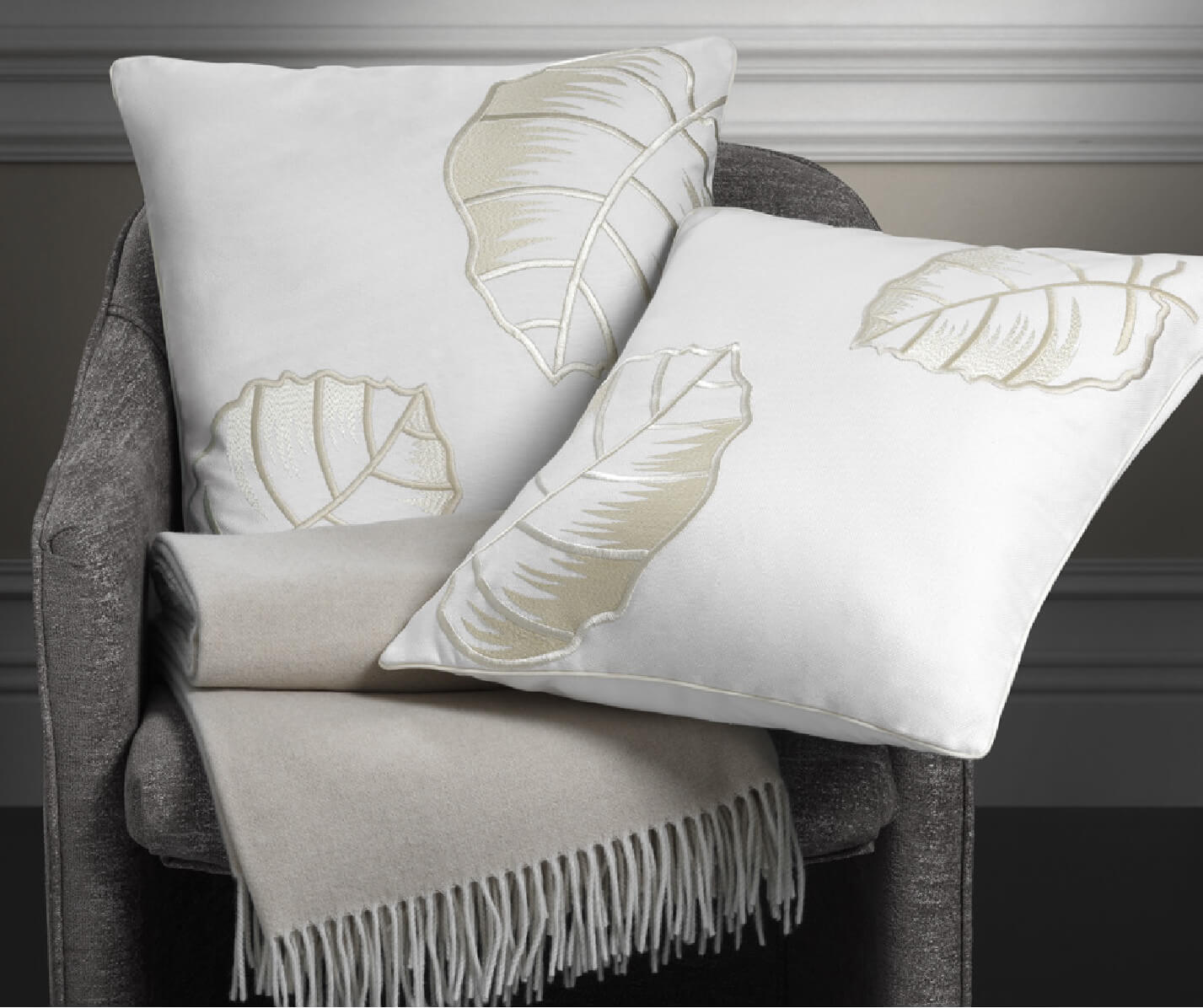 Feuillage
A playful pattern of leaves that artfully brings nature into the home.

Jacquard The Feuillage jacquard offers a discreet, subtle, never overt pattern whose remarkable charm and three-dimensionality remain timeless while its beauty remains untouched.

Print The Feuillage pattern created exclusively by Timothy Corrigan for Dea reproduces an all-over print on fine cotton-satin fabric featuring bright colors that give a three-dimensional effect and long-lasting finish.

Embroidery The graceful embroidery of the Feuillage Collection graces these marvelous percale or satin cotton fabrics. It represents the historical essence of skilled Tuscan craftsmanship, where embroidery is an art handed down from one generation to the next.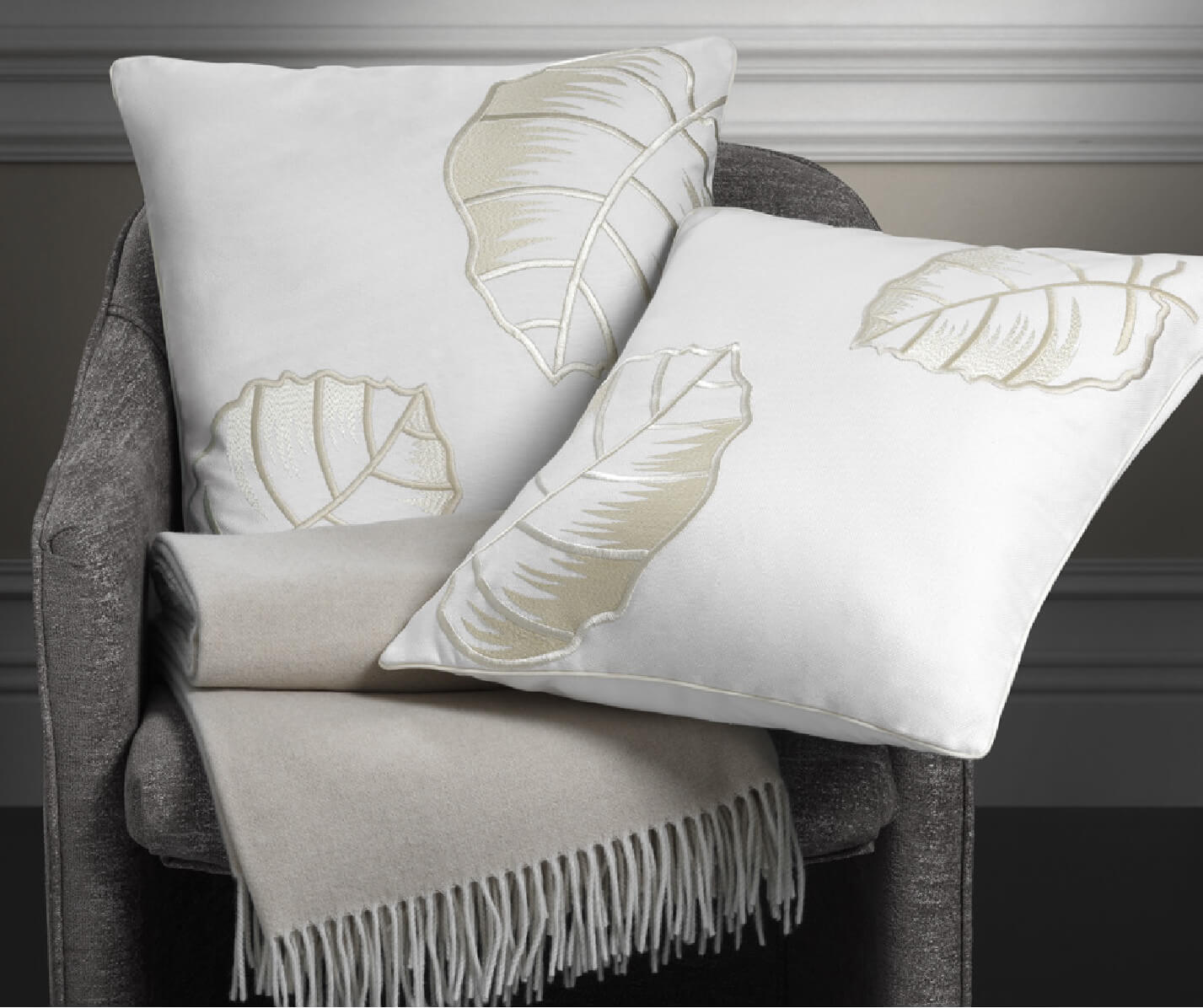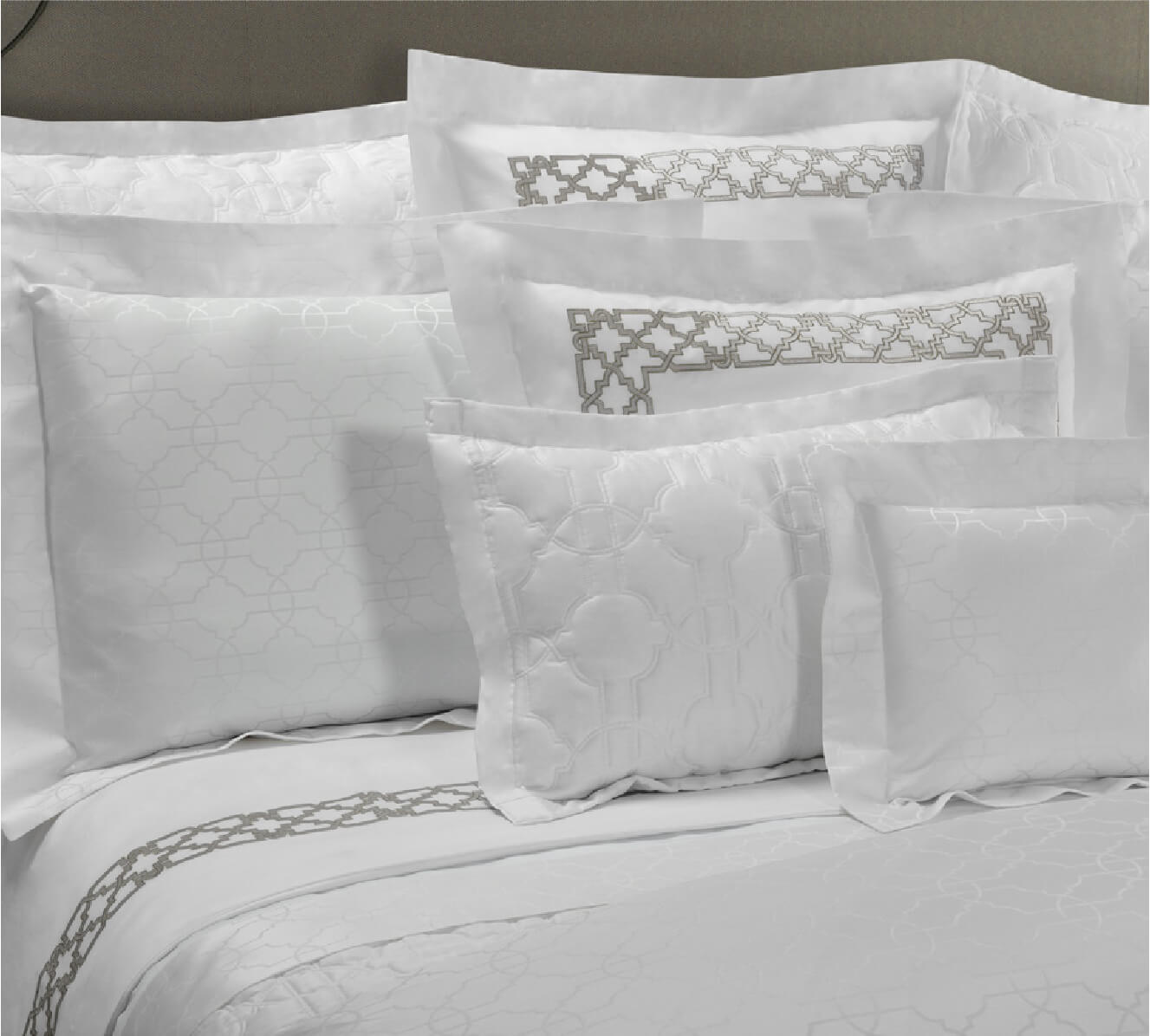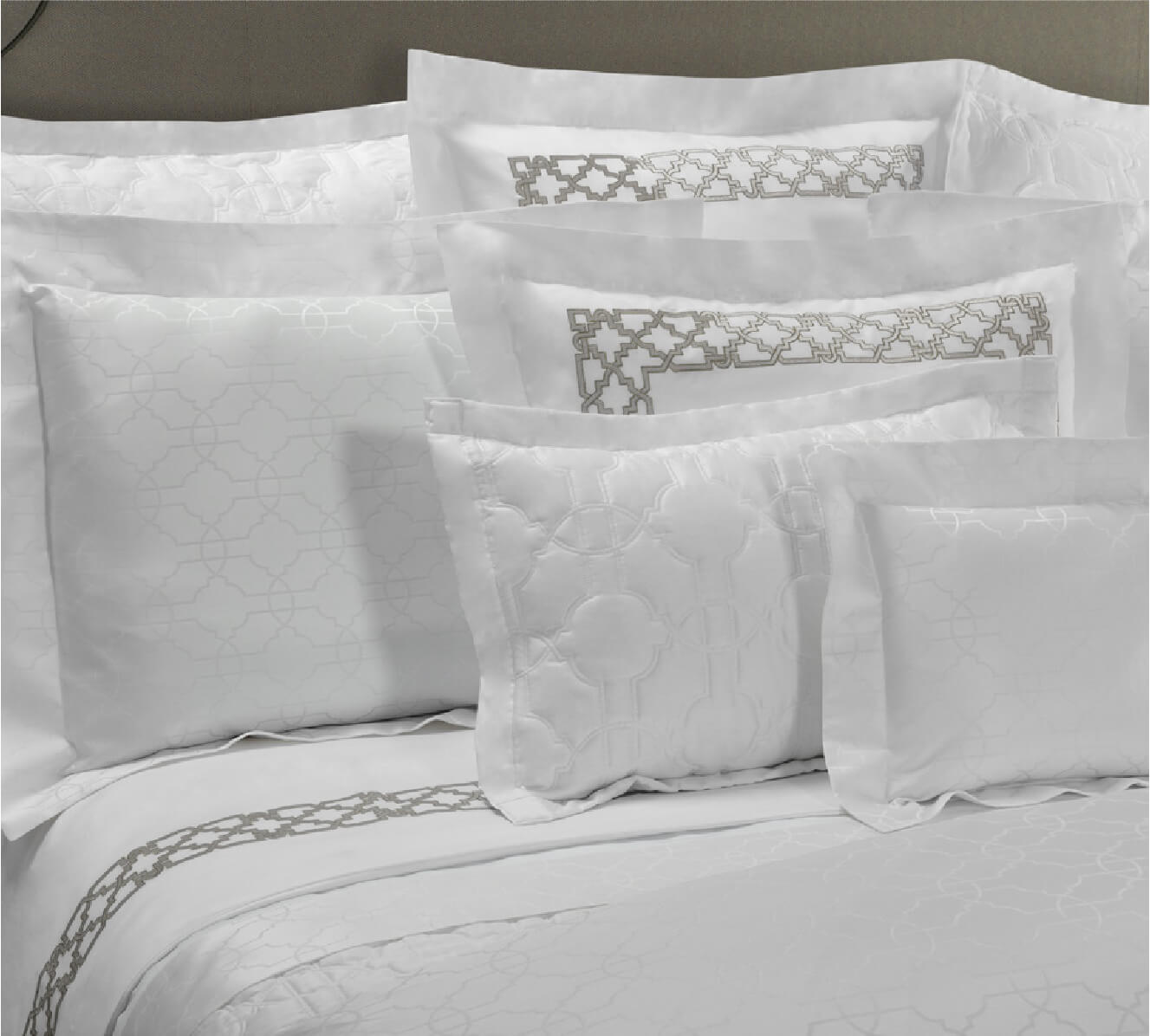 Fretwork
Novel geometric shapes that draws upon Eastern and Moorish influences with classical canons of beauty. Color harmonies play with the various shapes in a sophisticated whole that conveys lightness and wonder.

Jacquard This wonderful, premium-quality fabric is clearly the foremost feature of the Fretwork Collection, which presents a jacquard made of the finest cotton. In order to render such fullness, great artisanal mastery is required in the choice of raw materials and their production. The signature pattern is woven directly into the fabric instead of being drawn or printed.

Embroidery The color dualism presented in the Fretwork Collection intensifies the beauty of any combination. This modern embroidery is composed of full-stitch embroidered lines that intertwine to form a frame on the white canvas of fine cotton. Fretwork is a contemporary rendering of Tuscan craftsmanship, where embroidery is an ancient art that has always given value to linens and home furnishings.