Line
Palazzo
A romantic and wonderful lace is the protagonist of the Palazzo series. The proposal of lace of rare beauty and quality is certainly one of the stylistic elements that characterize the Dea proposal.
Always unusual and precious, rebrodè lace enriches all the elements of the Palazzo series. Of Middle Eastern tradition, this type of lace is characterized by a relief embroidery on tulle that gives rise to designs that have a characteristic border that underlines and enhances the decoration. Highly precious yarns guarantee the stability of the embroidery and the precision in the realization, but especially the three-dimensionality of the embroidery.
Added to this is the fine mastery of the Dea workmanship which sees the lace applied to the body of the pillowcase, instead of to the edge, in order to convey more body to the element and invisible stitching on the corners because they are made in such a way as to follow the trend of the design. Despite the preciousness and particularity of the workmanship, this product is meant to be washed and ironed. The finishing processes are almost entirely done by hand, so as to keep the embroidery more intact.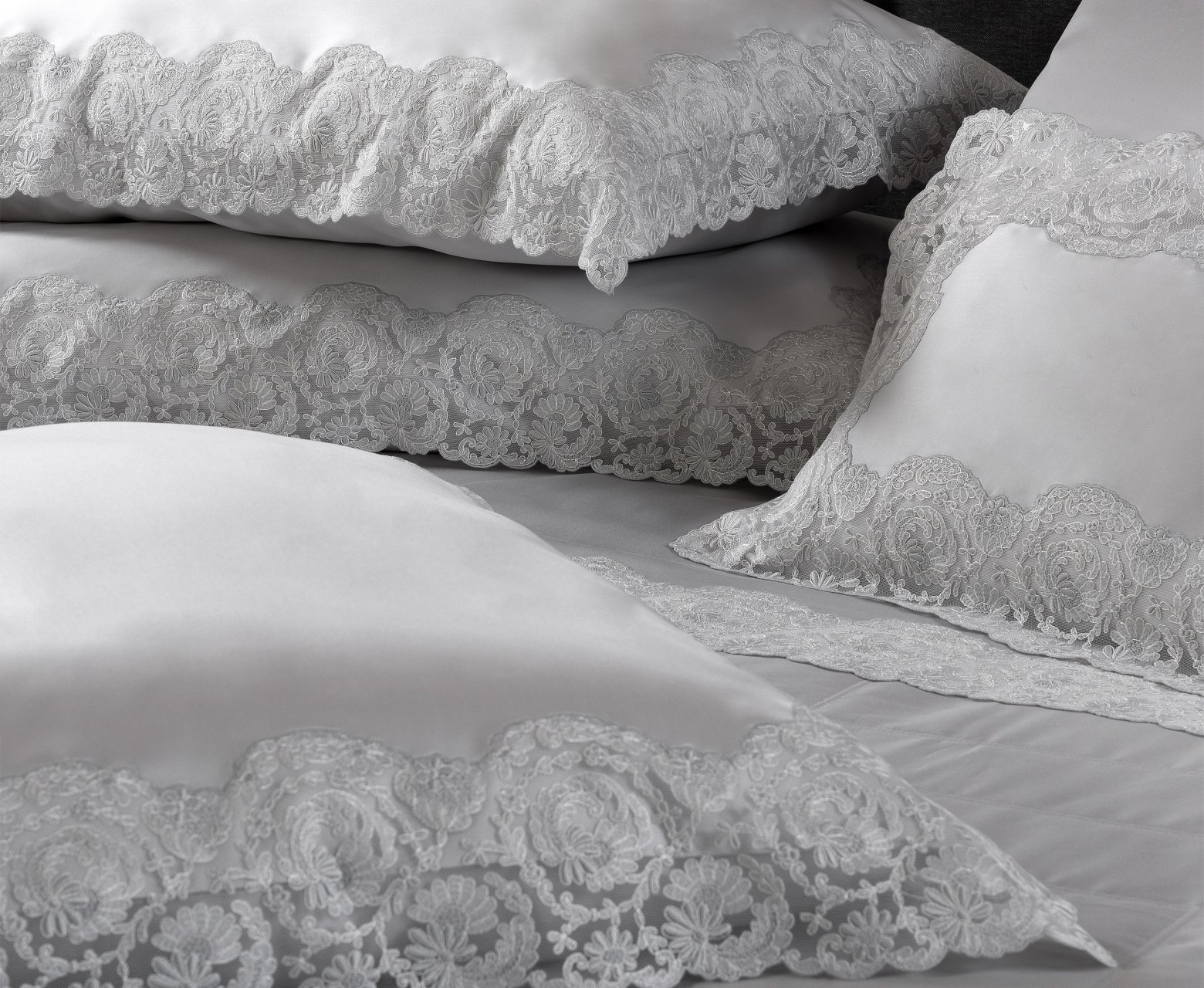 Fitted sheet

---

407,00€ – 453,00€

Bottom flat sheet

---

407,00€ – 453,00€

Duvet cover

---

3.393,00€ – 3.489,00€

Pillow case (pair)

---

1.101,00€ – 1.117,00€

Sham

---

558,00€ – 1.138,00€

Top sheet

---

1.515,00€ – 1.543,00€

Sheet set with pillow cases

---

3.023,00€ – 3.113,00€

Sheet set EUR with shams

---

4.146,00€ – 4.220,00€

Duvet cover set with shams

---

5.617,00€ – 5.765,00€

Duvet cover set EUR with shams

---

5.617,00€ – 5.713,00€
Your list
Pillow

Color:

Grey

Size:

Grey

Quantity:

1

100,00

€

Total

0,00

€